Beaconsfield-based Jansons Property celebrated a topping out ceremony at its Dragon Court development in Petersfield, Hampshire.
Town Mayor Cllr Phil Shaw unveiled a plaque to mark the occasion alongside Janson's managing director Andy Jansons and members of the project team including local project manager Boulter Mossman and Portsmouth-based contractor PMC Construction.
Andy Jansons said: "We're delighted to celebrate this milestone today with the unveiling of the plaque. It's the result of three years of planning, development and construction plus careful consideration of local requirements which is vital when regenerating a brownfield site.
"As well as thanking our builders, contractors and project managers today we would also like to thank and recognise the contribution and co-operation of the local planning authorities, namely East Hampshire District Council and South Downs National Park.
"We wanted to ensure the site was developed in keeping with the local area, and the local authorities have been particularly helpful in ensuring the selection of quality materials for the traditional brick and tile construction."
The traditional topping-out ceremony paid tribute to the construction process and celebrates the completion of the structure and the roof trusses, representing a major milestone in the overall construction of Dragon Court.
When completed, the development, which is on the site of a former car park, will provide 13 new homes, retail space and public areas. A much-loved fishpond will be retained and a mosaic is to be deconstructed and rebuilt at a new site. Jansons Property worked solely with local firms on the scheme.
Petersfield town mayor Cllr Phil Shaw said; "I was pleased to be invited to play a part in this topping out ceremony. Regeneration projects such as this are an important part of Petersfield's future. I was particularly glad to hear about the restoration of the fishpond and Dragon Street mosaic."
Target completion date for the development is the end of April 2022.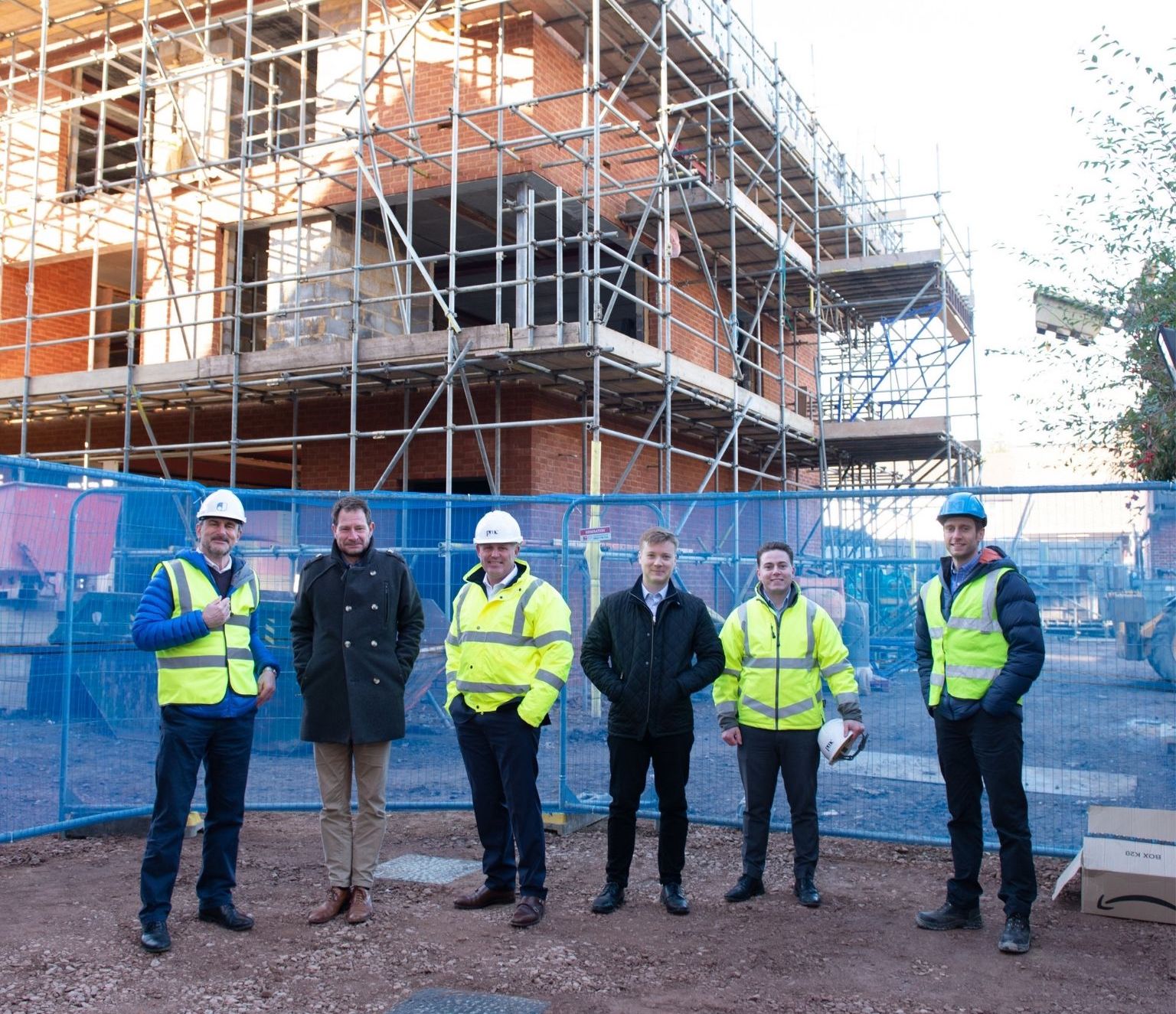 Image (top) shows Andy Jansons (left) and town mayor Cllr Phil Shaw.
The next image shows (l-r):  Paul Nash, construction consultant at Jansons Property; Jim Allman, director at Boulter Mossman; Steve Cripps, managing director of PMC Construction; Harry James, surveyor at Boulter Mossman; Calum Marchant, surveyor at PMC Construction; and Emyr Griffiths, associate director at KSA Architects.
© Thames Tap (powered by ukpropertyforums.com).
Sign up to receive your free weekly Thames Tap journal here.