Crumbling and leaking buildings at the Royal Berkshire Hospital (RBH) are adding to waiting lists, costing millions to maintain and threatening its ability to keep staff.
The condition of real estate at the 173-year-old hospital was explained to delegates at a meeting of UK Property Forums members on November 2, by Alison Foster, programme director for Building Berkshire Together which is working on its potential redevelopment or relocation.
The meeting, held at Haslams' Friar Street offices, heard:
The hospital has leaking roofs and windows with one area alone having 60 buckets to catch water.
A £1 million machine called a SPECT CT scanner in the cancer unit cannot be used because it cannot be sunk into the ground in the listed North Block.
Part of the North Block, currently behind scaffolding, has cost £2.2m just to keep it in safe condition.
That section would cost £13m to bring into use and, even then, it could not be clinical use.
Some areas get so hot that medication melts.
There is asbestos in the South Block
The hospital has a £200m backlog of required repairs.
Ms Foster said: "There's a whole list of critical issues we suffer with because of the environment and cramped conditions. The hospital staff, the doctors and nurses, do put up with it but if they scouted around they could be attracted to other hospitals which have better conditions to work in and that is a huge risk."
The listed North Block cannot be sold but the hospital is evaluating options to lease it to offset maintenance costs.
Ms Foster said: "It's costing us a fortune just to maintain it. This year alone it's cost us £2.2m just to keep it up and keep it safe – just to keep it stable. That has to come out of our budget that we could be using on clinical services and improving clinical care."
She said the cramped conditions lead to inefficiency and add to waiting lists. She went on: "We have the staff at the moment to do more operations but we haven't got the space to do them in.
"Sometimes it's as simple as that. That means more buildings and it means more investment. We have people on waiting lists for up to two years in some cases because we haven't got the infrastructure."
Possible relocation to Thames Valley Science Park is now seen as less attractive because, with 300 homes planned nearby, there would need to be upgrading work to the power supply, potentially delaying a move. It would also mean a new junction on the M4, adding to the cost.
However, empty plots at Thames Valley Business Park where Shell had operated, have been considered and discussions have been going on for several months.
The required space for a potential new hospital, initially estimated to be 132,000 sq m, has been reduced to 93,000 sq m, due to space optimisation and digital services.
Ms Foster brought local MPs to the hospital last month to see the state of it and said fundraising options are being considered. She asked guests to support the campaign to persuade the Government to allow funding for a potential move.
The RBH is one of more than 50 locations on the New Hospitals Programme. The Treasury will decide the total budget for them on December 6 and the RBH expects to know its allocation before the end of the financial year, which will dictate whether it can move or must redevelop on-site.
Visit https://buildingberkshiretogether.co.uk
See also our View from the riverbank column and add your thoughts.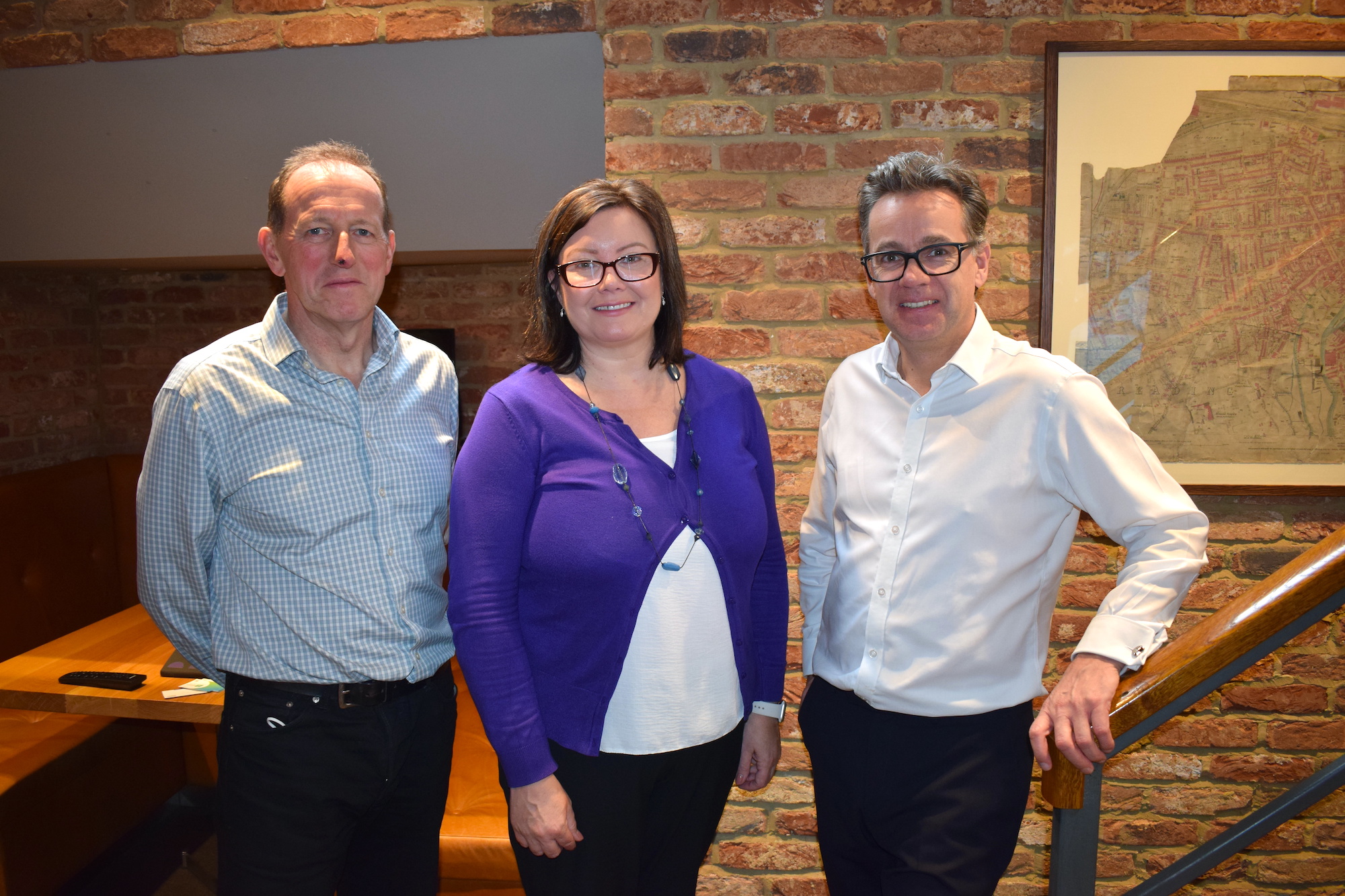 Image (top): Juan J. Martínez from Exeter, UK, CC BY-SA 2.0 <https://creativecommons.org/licenses/by-sa/2.0>, via Wikimedia Commons.
Image above shows (l-r): UKPF managing director, Matthew Battle, Alison Foster, Mike Shearn, chief operating officer for Haslams which hosted the event.
© Thames Tap (powered by ukpropertyforums.com).
Sign up to receive your free weekly Thames Tap journal here.