The desire to move home quickly is among the key reasons for a positive outlook in the Reading housing market, according to the town's foremost estate agent.
Thames Tap partner Haslams has published a report (below) on what has happened in the market in 2020 and how the firm sees the future. It shows people wanting a better quality of life, combined with Government incentives and low interest rates, has fuelled a positive environment in the most difficult of years.
The housing market has appeared to be in a state of flux throughout much of 2020.
However, as buyers and sellers attempt to adjust to a new working environment and a change in lifestyle, market data suggests that the desire to find a new sense of normal and a better way of life has managed to prove the pessimistic outlooks of some industry forecasts wrong.
The pent-up demand, due to the lockdown that occurred from March to the beginning of Summer, is just one of the factors that has caused the market performance to surpass forecasted industry expectations.
The research data for the Greater Reading area indicates that there is a sufficient number of affluent buyers, unaffected by unemployment or the consequences of a reduced income, and they have continued to drive surprising levels of interest, property transactions and, in turn, achieved prices.
Haslams market research within the new build residential market shows that the average achieved price under £500,000, when we compare 2019 and 2020 (year-to-date) has increased by 3.7 per cent to £424,880.
Furthermore, when we look at the overall number of transactions from December 2018 to October 2020, we have not seen another peak in sales like that we saw in July 2020 despite an overall decline in transactions thanks to Covid-19.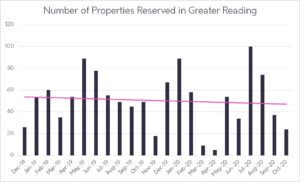 (Source: Haslams New Build Market Intelligence Data)
Purchasers have been focussed on maintaining a better work/life balance to improve mental and physical wellbeing.
Thanks to the proximity to countryside, areas of outstanding beauty and outdoor pursuits, as well as stable job opportunities, the number of transactions has also included people moving outwards from London or other congested areas to the outskirts of Reading and Wokingham.
Although these transaction levels have understandably decreased compared to 2019 – by approximately 14 per cent – when we consider the shutdown for almost four months, the levels remain positive.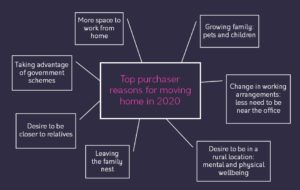 (Source: Haslams Market Intelligence Data)
Analysis of these transactions shows that despite the overall reduction in quantity, the two-bedroom apartment sub-£350,000 and four-bedroom house sub £550,000 markets remain the least affected by the market challenges faced in 2020.
The three-bedroom house continues to reign supreme however, with around 170 reservations this year at an average achieved price of £452,159 and an average size of 1,123 sq ft.
In the new build property market we can also see that year-on-year the average amount of discount on properties sold has also decreased, especially in April and August.
(Source: Haslams New Build Market Intelligence Data)
The 2020 housing market has, in general, benefitted greatly from the Stamp Duty holiday and lower mortgage rates but – specifically in the local market and new build developments – transactional data shows that the desire to move quickly was key. In fact, 75 per cent of all sales in September had a 2020 completion date.
Overall, the data suggests that the strong desire to move for a better quality of life, making the most of Government incentives and seizing the opportunity for properties available to move into now, is keeping the property market in the Reading area driving forwards.
© Thames Tap (powered by ukpropertyforums.com).
Sign up to receive your free weekly Thames Tap newsletter here.